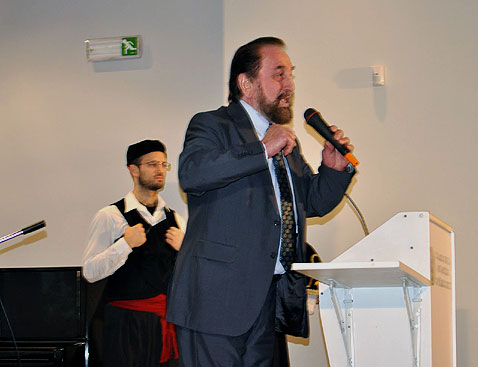 Lazos Terzas (Grk: Λάζος Τερζάς), born Lazaros Terzanidis, is a well known Greek actor who was born in Magiko Ksanthi from Pontic Greek parents. He graduated from the Ecclesiastic School of Thrace and studied drama at the Kosti Machailidis-Mary Aroni School of Drama. He started his theatrical career at the Kosta Moussouri Theatre and appeared in films with many popular Greek actors including Nikos Xanthopoulos.
Photo: mikrasiatis.gr
In September 1980 he abandoned his film career and opened the Centre of Pontic Theatre and Arts, and began producing classical plays in the Pontic dialect; plays such as Lazaragas, Ta Skotadia, as well as classic Pontic works such as Oi Momogeri and Oi Teleutaoi tou Poli Haita, a theatrical play which touches on the struggles of the refugee Pontic Greeks.
One of his finest Pontic plays was Eirene by Aristophanes which was followed by another famous play, Lisistrate by Aristophanes. In the Summer of 1995 at the Likavitos Theatre at the Festival of Athens he produced a great work titled 'Folk Poetry of Pontus'.
Terzas has given talks on Pontic culture in Greece and abroad in many countries including Germany, Canada, Cyprus, Russia, Turkey (Trabzon), Georgia and has spoken at the EU Parliament. Terzas is very well known amongst Pontic Greeks for his stirring renditions of popular Pontic poems. He is currently in Australia taking part in the national Pontian Synapandema gathering of Australia's Pontic Greeks.
Reference: nikosxanthopoulos.com
Filmography: click here