Platana (Grk: Πλάτανα , Trk: Akçaabat) is a seaside town situated 14 km west of Trapezunta (Trabzon) on the Black Sea. Its current name is Akcaabat. According to various scholars, Platana is ancient Ermonassa (Grk: Ερμώνασσα /Ερμύση), which in the days of Pharnakes I, King of Pontus (2nd century BC) had been renamed to Pharnakia.  The first tracing of its medieval name of Platana comes from Constantine Porphyrogenitus (905-959) who refers to it as Platanion (Πλατάνιων). In the early 14th century it is referred to as Platena, Platana, το Πλατάνιον, Πλατάνα, Πλατανέα and Πλατάνη. Pulathane is another name used to describe it.
Platana historically also served as an alternative port to Trebizond when bad weather prevented ships from mooring there. Anthony Bryer states that Platana had at least 3 churches, two of which were medieval. In the bull of 1432, Platana was no more than a chorion of the bandon of Trikomia. Soon after the Ottoman conquests, the bandon of Trikomia became a nahiye dependant on Trebizond. In the years 1521 - 1528 the defters indicate that Trikomia had 106 settlements with a total Christian population of 4479 households, and a Muslim population of 413 households.
Before the Exchange of Populations (1923), Platana comprised 2 Greek quarters; Yianlou and Main Platana (Tr: Nefsi Platana). There were also 2 Turkish quarters; Tirpisar and Orta Mahalle. There were 3 churches; The Church of the Brigadiers and Saint Gregory which were both large, and Saint George which was smaller.  D.Oikonomides states that 350 Greek families were living in Platana just before the Exchange of Populations (1923). In 1870 there were 300 Greek families.
Platana was renowned for its abundance of olive trees, as well as other produce such as tobacco, beans and hazelnuts.
Close to the church of St George was a 7 grade 3 storey Greek school which was called The Frontistirion. Built in 1893 and funded by residents of Platana who were then living in Russia , it still stands today, and is being used as a Turkish school (FevziPasa Primary School).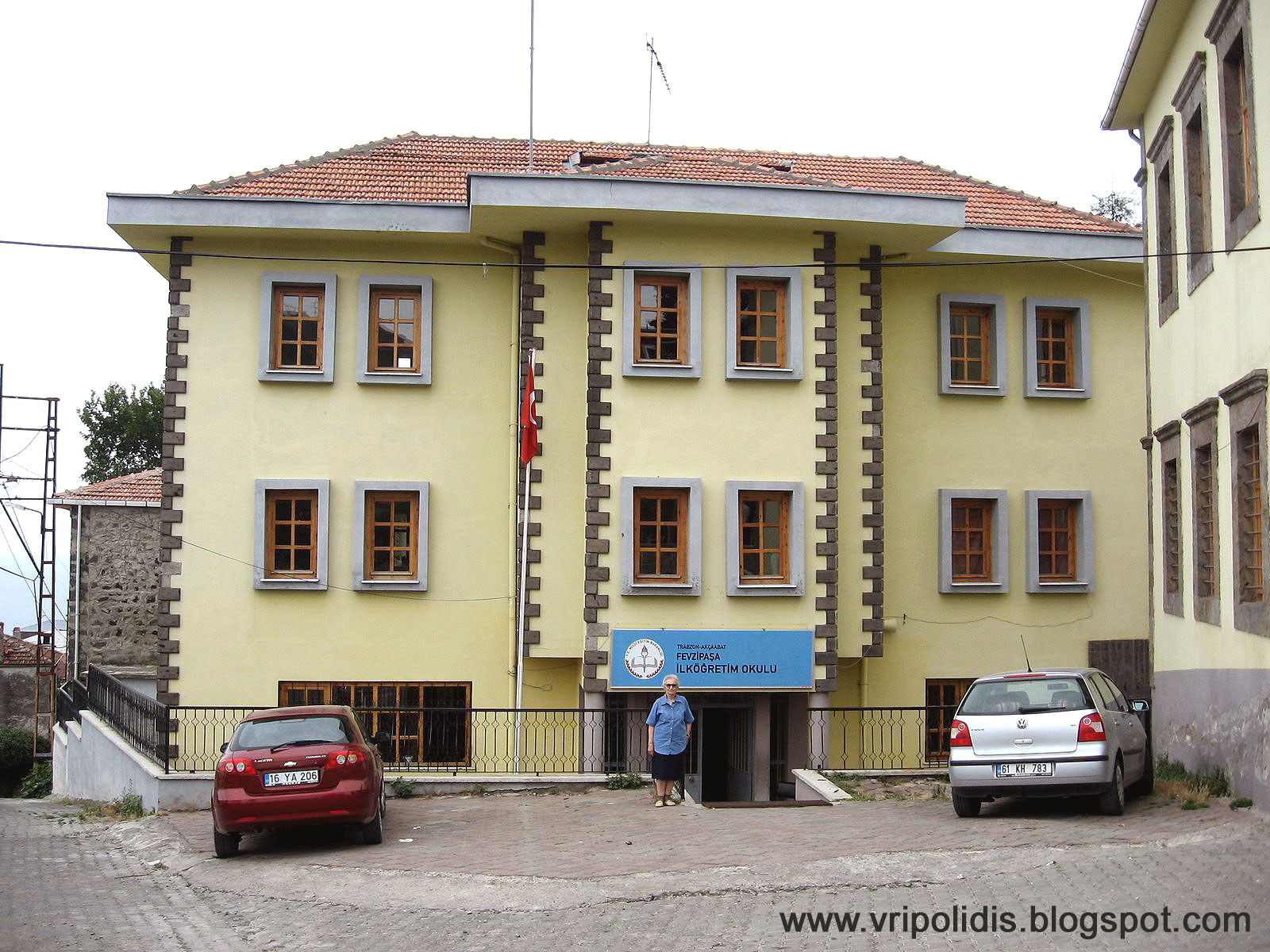 The Frontistirion (School) of Platana.  Source
Selina Ballance in 1960 notes 2 other churches of significance in Akçaabat. The church of St Michael which is located high up on a mountain south of the town was seen in 1840 by Hamilton when the priest told him it was 800 years old. Prof Talbot Rice believes the church to be 13th or 14th century. In 1960 it was in use as a house. In 1846 it was restored and extended as attested by an inscription on the north facing door, and its medieval appearance clearly distinguishable from its 19th century parts. Balance notes the church's rich exterior design and construction.
Ballance also notes the existence of the small and unrecorded church of Orta Mahalle in Akçaabat. Although it was in a fair state of repair in 1960, its use as a byre and henhouse would have hastened its end. Comprising a rounded apse and parallel sided windows, it was built of solid masonry with the use of bricks for window arches which was typically medieval work. She also noted remains of wall paintings on the internal face of the south wall.
Under the jurisdiction of Platana a number of Greek villages existed such as:
Asor (90 families, 1 church, 1 school)
Kaloyenna (60 families, 1 church, 1 school)
Fiz (30 families, 1 church, 1 school)
Fisera (35 families, 1 church, 1 school)
Kaliyera (60 families,1 church, 1 school)
Frangoulanton (30 families, 1 church, 1 school)
Struki (50 families, 1 church, 1 school)
Myrsini (60 families, 1 church, 1 school)
Kartsea (70 families, 1 church, 1 school).
References:
- The Encyclopaedia of Pontian Hellenism, Kyriakidis Publishers
- The Byzantine Monuments and Topography of the Pontos, A.Bryer, D.Winfield Dumbarton Oaks, pp160-163
- The Byzantine Churches of Trebizond. Selina Ballance. Anatolian Studies, Vol. 10. (1960). Pp.164-167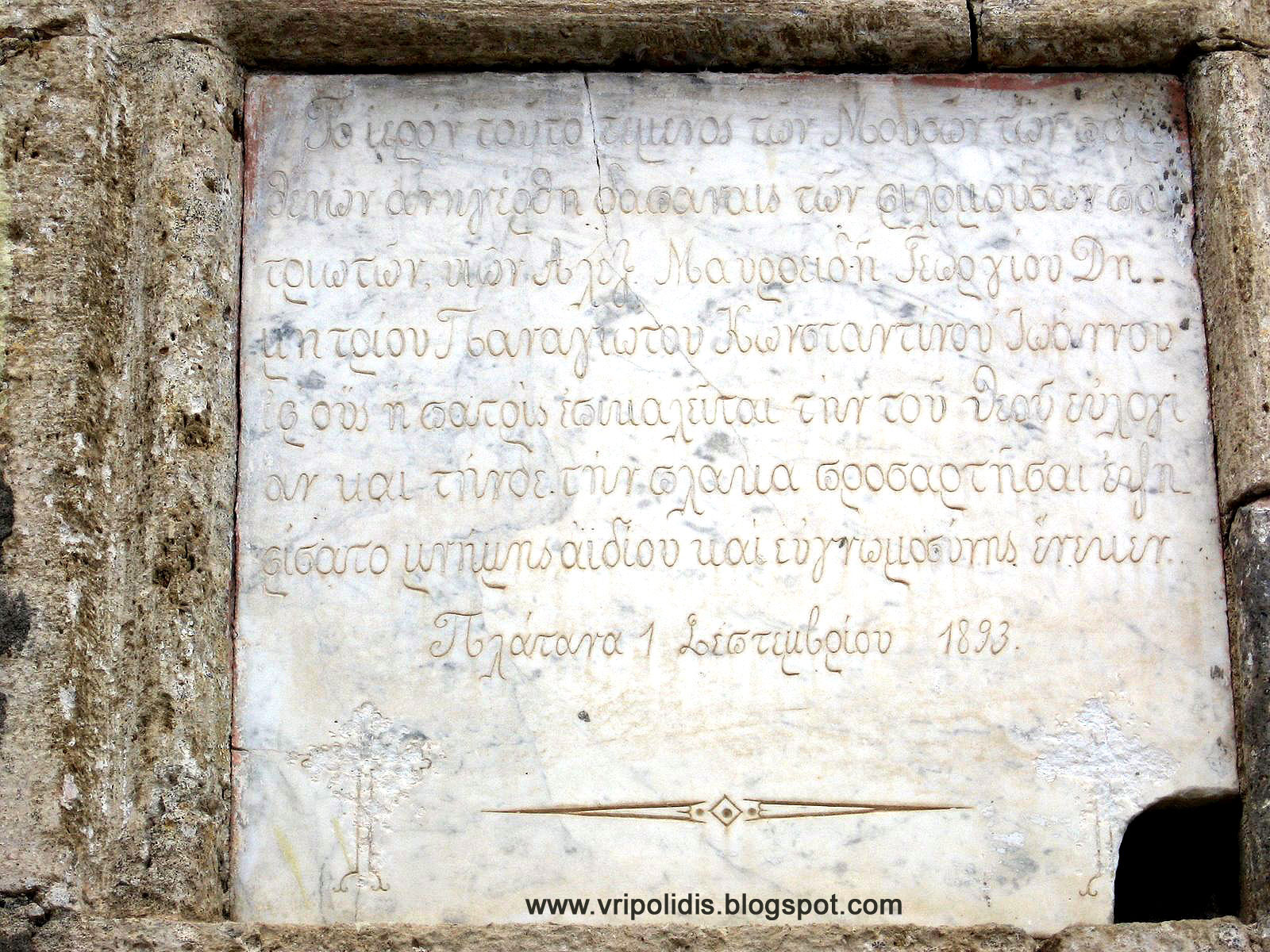 The message on the plaque outside The Frontistirion is written in Greek.  It commemorates the inauguration of the school (1 September 1893). Source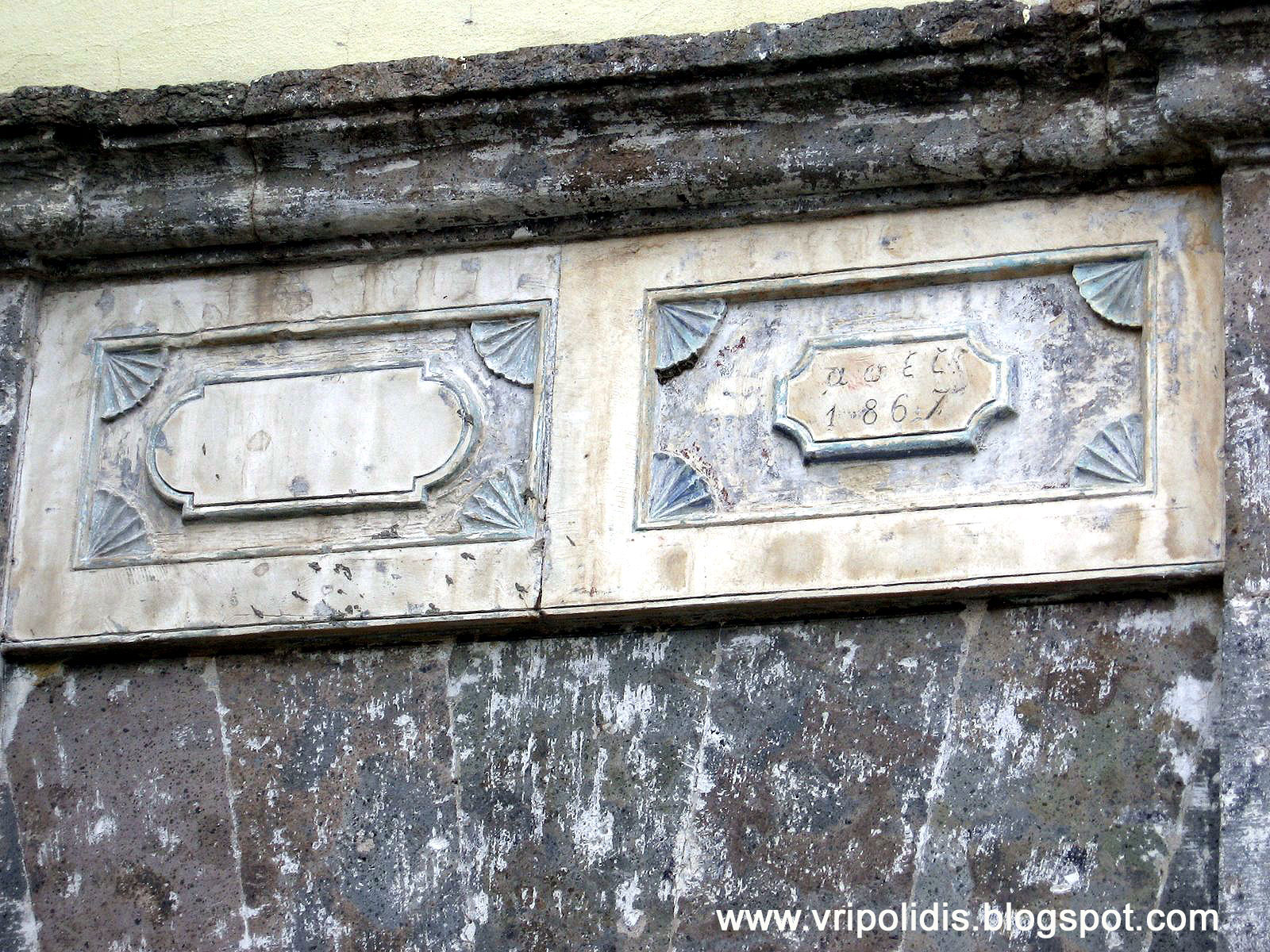 A plaque with Greek lettering and a date of 1867.  Source