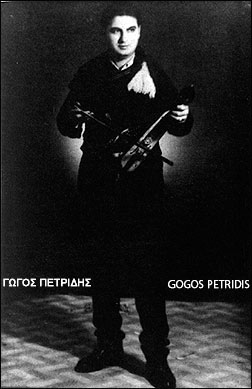 Giorgos Petridis,
(better known as Gogos) was born in Trapezunta*, Pontus in 1917. Gogos Petridis is renowned as being the finest exponent of the Pontic lyra. After the Exchange (1923), Petridis' family established themselves in Kalamaria, Thessaloniki in Greece. His father Stavri Petridis was also a renowned Pontic lyra player and singer. Gogos' love for Pontic music started at a young age mainly due to exposure to his father's music. At the age of 10 he started playing the lyra. As an adolescent he was able to entertain at weddings and other social functions. At the same time he was also learning to play the bouzouki.
By the 1950's, Gogos had become widely known as the finest player of the Pontic lyra. His mastery at playing Pontic music resulted in him also playing other styles of music on the lyra. His fans soon named him the 'Patriarch of the Lyra' a name which is still used to refer to him today. He gained admiration for his ability to produce the sound of the violin and also the bouzouki from the Pontic lyra. As a result of this, many people considered him as being a perfectionist, whilst others were of the view that he was altering the sound of traditional Pontic music.
What's certain is that Gogos Petridis influenced many modern lyra players and left a lasting impression on all those who saw him play live, or listened to one of the many albums or cassettes he left behind. Τhe style with which the Pontic lyra is played today is very much the result of Gogo's influence on Pontic music.
Gogos also played alongside famous Pontic Greek singer Chrysanthos many times. The combination of Gogos and Chrysanthos will go down in history as perhaps the finest Pontic music has ever seen or heard. Their performances thrilling audiences worldwide.  
Whilst performing at Niko's Bouat in Thessaloniki one day, music composer George Manisalis happened to be in town and decided to drop in to watch the performance. After the session he made the following comment about Gogos: "There are only 2 musicians who have impressed me thus far in my life. One is a French violinist. The other is Gogos."
A bust was erected in honour of Gogos Petridis at his home town of Kalamria, and is located just outside the Town Hall. He left behind 3 sons (Stavro, Savva and Kosta) all of whom have taken a keen interest in music.
Note:
* Gogos was born in Fantak (Φαντάκ), a Greek settlement of medievil Olassa (Ώλασσα) which is situated 10 klm south of Trapezunta. 
Source:
- The Encyclopedia of Pontian Hellenism, Malliaris Paedia
- www.trapezounta.com