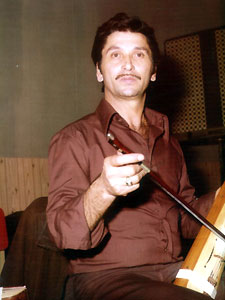 Konstantinos Tsakalidis (Kostikas) was born in Lendrakia, Drama, Greece in 1933. He was the third of seven children born to Ioannis and Olga, refugees from Trapezounta (Trabzon) of Pontus. From a young age he listened to his father and uncles singing and playing the Pontian Lyra at their family homes but also at the local café bars. At the age of 15, he was playing entire pieces of music from his homeland, appeared at Pontian theatrical presentations, weddings and also folkloric festivals. The people of Drama loved and admired him not only because he was young and played the lyra so well, but also because of his friendly and modest character, and his ability to impress them at the various functions he appeared at.
He did his National military duty in Veria where he also met Eleni, the woman he eventually went on to marry. Together they had 3 children, Athanasios, Olga and Ioanni (Pitikos).  
In 1965, a 3 day Pan-Pontian event is organised in Fillipous, Kavala where he wins his first instrumentalist music award for his ability to play the lyra. Not long after this, his first mini-album is released. With his maturity in the sphere of music now growing rapidly, he endeavours to leave a bigger mark on the Pontian music scene. The world now begins to speak of his traditional 'table song' presentations more so than any other Pontian musician.
Having noticed that the Pontian youth were not interested in traditional styles of music, he decides to add other musical instruments, his own lyrics and also his own tunes and as a result he begins to captivate the general public.
In 1972 he moves to Athens and opens the first ever family oriented Pontian club on Platonas Street in Kallithea. He gradually creates a following of people from all walks of life, who visit his club to listen to his music but also to get to know him. Some of these people include musicians and actors, but also musicologists from abroad such as Leigh Cline, a guitarist/musicologist from Canada who spends an entire year with him, to listen and to better comprehend the style in which he plays traditional Pontian music. He then moves back to his home town where he releases an album with his own music style, which includes traditional Pontian music.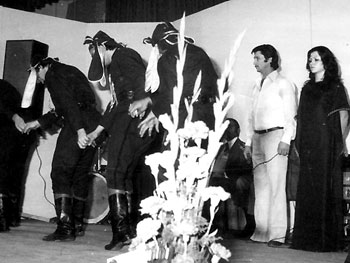 He meets music composer Giannis Markopoulos and he plays in his orchestra in a film which stars famous actress Raquel Welch. In the following music season of 1975-76 he partners Nikos Xylouris and Mariza Koch at the music hall Aposperida in Sina Street. He appears in Theo Angelopoulos's film 'Oi Kinigoi" where he has a small music and screen role. He then plays a small part in an album by Xristodoulou Xalari with the title ' Oi Drosoulites'.
At the same time he creates his own personal albums. He meets music composer Naki Petridis and plays a part in a song interpreted by Haroula Lambraki. He also plays a part in an album by John Tikis.
A self taught musician from the age of 10 and with no knowledge of music theory or study, he manages to produce sounds with the Pontian lyra that music composers are looking for. He then adds an extra string to the traditional 3 strings of the Pontian lyra so that the sound of the instrument is exactly what he and also music composers want.
He begins to manufacture his own instruments so that they can produce a tone to suit his own personal taste. He preferred them heavy as well as tall. The tall ones were small in stature, lightweight and produced high notes (zil and kapan) as opposed to the heavy ones.
In 1977 he accomplishes his lifelong dream. At his own expense, he tours the whole of Greece playing Pontian as well as folk, island, Cretan and other types of music. Playing Cretan as well as Greek folk songs with his Pontian lyra, he captures the hearts of the Pontian people as well as the rest of Greece. This tour was his inspiration to later release an album with Pontian as well as other folk songs.
Some of his closest colleagues and friends included:
Lizeta Nikolaou, Vasilopoulos (clarinet), Kostoulas (clarinet), Barba Mathios ( hand drum), TsanakalisSopidis (percussion) and Chrysanthakopoulos (lyra). (Pontian lyra),
Amongst the colleagues who admired him and whom he also admired, were: Lazos Terzas and Harry Klynn both of whom stood by him during difficult personal times.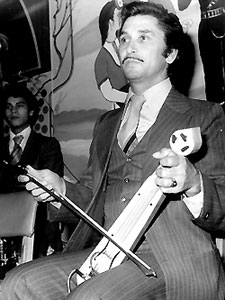 In 1979 he takes part in the International Congress of Musicologists in Zagreb of the Former Yugoslavia Republic alongside ethnomusicologist and composer Eleni Karaindrou and other Greek musicians. On the 24th of August at the 'Pizinisk', Kostas Tsakalidis (Pontian Lyra) appeared alongside the following performers: .Halkias (Epirotika), Μountakis(Cretan) and Giota Bey (Interpreter)
 On the following day, the Yugoslav media referred to Kosta Tsakalidis in the most flattering of ways. On the cover of an album, Mimis Plessas says that he had discovered the authentic music of Pontos and the beauty within Homer's myths, in the music of a very decent and simple musician. His daughter Yiouli Tsakalidou also performs alongside him in various songs, thrilling many audiences wherever they went.
He organises concerts abroad and in so doing, helps Greek refugee organisations throughout the world.
In 1980, he falls ill while on tour in Germany. His tour is cut short and he returns to Greece where his own personal battle begins. His battle lasts for two years and in the process he discovers a love from the general public, a love which softens the pain of his illness. Throughout this time, his family, relatives and also his friends constantly show their support by being by his side. His last wish was to be buried beside his father . His last words were:
'I leave. Goodbye my noble people'
He passed away on the 7th of July 1982.
In 1995, the Pontian program of 'Euxinus Lesxi - Radio Station Imathia' request that a section of his home town be renamed to honour him. The request is accepted and the public square adjacent to where Kostika made his final appearances is renamed 'Kostikas Tsakalidis Square'. A bust of Kostika is also erected in the square.
Notable people who made reference to Kostika Tsakalidis were:
Paris (reporter): 'Kostikas may have passed on, but he leaves behind his immortal songs. It's like he lives within all our hearts. Whoever listens to his lyra and his music, will experience a burning tear in their eye, a tear of memory within them. His friends were in the thousand and countless. '
Mimis Plessas: 'You, the lucky people, will drink from the authenticity of Pontian music, through the honest words of Kostikas, before even we, the skilful and dexterous, have a chance to dim the clarity and cleanliness of it'

Euxinos Lesxi Veria (Dance group, early 1980's): 'To this brilliant human being and musician, we the younger generation who had the chance to meet him in person and to love him, owe him the greatest honour for passing on to the next generation our experiences, his values and contribution.'