The church of the Timiou Stavrou (Tsita, Zida, Cida, now Dirlik Koyu) Sourmena (Sürmene).

A 19th century church which was built in 1891 during the reign of Metropolitan Gabriel Iatroudakis (1889-1893). A remarkable feature of the church is a stone balcony or women's gallery. In the east vault of the naos was a painting, now covered, of the Mother of God enthroned with the Child on her lap.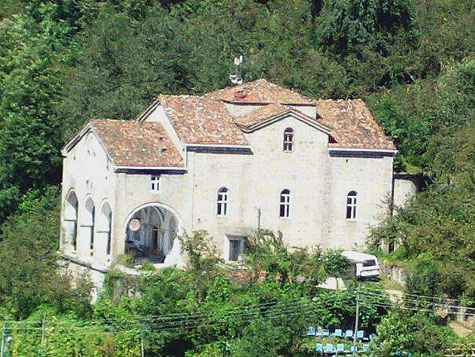 The Sourmena (Sürmene) district: The valley of Sourmena which was a bandon of the Empire of Trebizond had a continuous Greek history until modern times. Kiepert estimated 1600 Greek households in the valley, Chrysanthos estimated 850 familes, 11 churches and 10 schools (excluding Sourmena itself) and Archimandrite Abraam Papadopoulos (a local) estimated 8260 households in Sourmena and 25,000 in the district (3000 Greek and 500 Armenian).
Tzita was one of the larger villages in the Sourmena district. It was built east of the Mikropotamos which was a river that ran off the larger Monahos Deresi. Prior to the Exchange, it consisted of 350 families and had its own 4 grade primary school as well as 2 churches; the Metamorphosis of Sotiros and the church of the Timiou Stavrou (pictured). The church of the Timiou Stavrou was built on the site of a demolished church. The inhabitants of Tzita were primarily builders, coppersmiths, steelworkers, and carpenters. During the pogroms of the 17th century many of its residents fled to the region of Argyroupolis, where they founded a new village and named it Tzita. At this new village, they built a new church and named it Metamorphosis in memory of their church in Tzita (Sourmena).

References:
- The Encyclopedia of Pontian Hellenism. Malliaris Paedia.
- The Post Byzantine Monuments of the Pontos. A Bryer and others. p133-142.
Photo: Ibrahim Onur Topaloglu