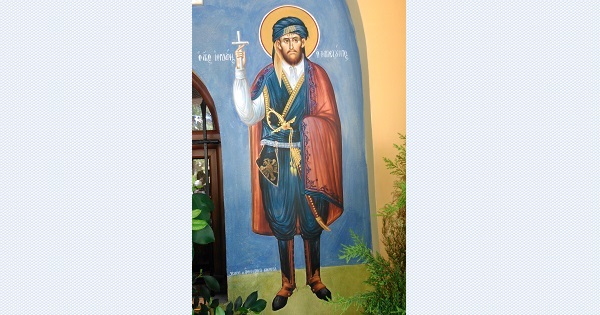 Saint Jordan of Trebizond depicted in traditional Pontic attire. Source
Saint Jordan was born in Trebizond. He worked as a copper-smith in Constantinople. The Saint was once spending some time with some Turks of the same trade. One of the Turks made fun of Saint Nicholas. Jordan responded by making fun of the prophet Muhammed. The next day he was told that the Turks had decreed death to anyone who mocked their prophet. Jordan took refuge in the house of a Turkish friend but his friend later gave him up as he feared the Turkish authorities.
At his trial the Turkish judge tried to convince Jordan to convert to Islam to save his life. Jordan confessed Christ without any fear and welcomed the death sentence with joy. He was allowed to return to his workshop to pay off any debts. He distributed his remaining assets to churches, monasteries and orphans. St. Jordan was beheaded on the 2nd of February 1650.
By Kon Bouzikos
Reference:
The Synaxarion. The Lives of the Saints of the Orthodox Church , Volume 2,
Holy Convent of the Annunciation of Our Lady Ormylia ( Chalkidike ) 1999.