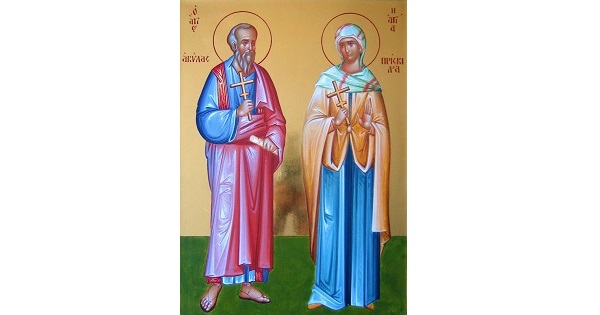 Saints Aquila and Priscilla. Photo source
Saint Aquila (Grk. Άγιος Ακύλας) was born in Pontus of Asia Minor and was one of the seventy Apostles. He was a Jew by race and a tent maker by trade who travelled widely. Whilst in Rome, the Emperor Claudius (41-54) banished all Jews so St. Aquila and his wife Priscilla (Grk. Πρίσκιλλα) moved and settled in Corinth. It was in Corinth that they crossed paths with the Apostle Paul who baptized them. Together with the Apostle Paul they began preaching the Christian Gospel. They followed the Apostle Paul to Ephesus where they set up a home that served as a hospitality headquarters for converts to Christianity.
After the death of Claudius, Aquila and Priscilla returned to Rome but didn't stay there long. The Apostle Paul made Aquila a Bishop in Asia. St.Aquila converted pagans to Christianity and confirmed newly converted Christians in the faith. St.Priscilla assisted him in his work. He was murdered by pagans and thus ended his life a martyr. Priscilla was killed with him.. They are commemorated on February 13 on the Greek calendar. Saint Aquila is also remembered on July 14 of each year on the Greek calendar.
A reference to Aquila and Priscilla in the bible:
Acts 18:2-3: There he (Paul) met a Jew named Aquila, a native of Pontus, who had recently come from Italy with his wife Priscilla, because Claudius had ordered all the Jews to leave Rome. Paul went to see them, and because he was a tentmaker as they were, he stayed and worked with them.
The Apostle Paul in his Epistle to the Romans recalls:
Rom. 16: 3-4: Greet Priscilla and Aquila, my coworkers in Christ Jesus, who put forth their heads for my soul, whom I do not alone thank, but also all the Church of the Gentiles and the church of their household.