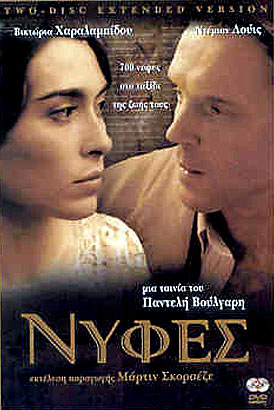 The film
Brides (Νύφες)
focuses on the plight of 700 mail-order brides from Greece, Russia and Armenia. Directed by
Pantelis Voulgaris
, written by
Ioanna Karystiani
with executive producer
Martin Scorsese
, the film focuses on Niki Douka (played by Russian born Pontian-Greek
Victoria Haralabidou
) who is compelled to leave Samothrace to marry a Greek tailor from Chicago, a marriage that her father has arranged. The film is set in the 1920's during the Greek-Turkish War and is a stark reminder of the perils of war.
On board the S.S Alexandros, Niki meets Norman Harris (Damian Lewis). Harris has been roaming Asia Minor for several years as an American photographer but American newspapers continually reject his works so he has to return home. Harris is travelling first class, while Niki is in third. Although she must honor her father's wish to marry the man who awaits her in America, things are complicated as Harris falls in love with Niki. 
Brides is largely a romance and is very well written and directed. The performances of the two leading actors is very impressive. A supporting role by Steven Berkoff who plays a sleazy immigration agent also adds to the film. Despite its slightly long running time (over 2 hours), the film is worthy of its awards and is highly recommended for all those who were in some way affected by the events of Asia Minor in the early 1920's.