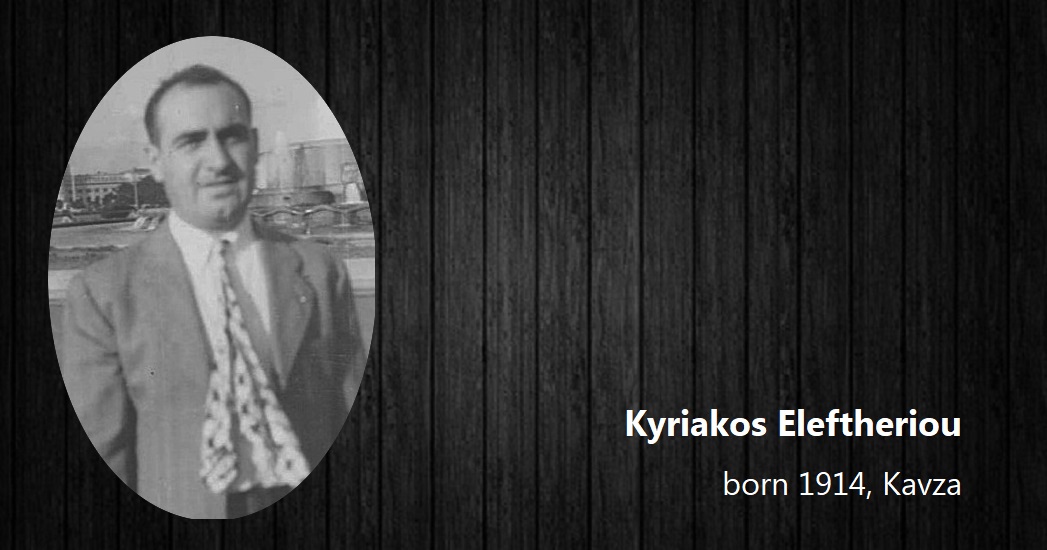 A Celebration of Life: A poem honoring my father, my hero, Kyrillos/Kyriakos "Mr. Charlie" Eleftheriou
Kyriako Eleftheriou was born in 1914 and lived in the village of
Kavza
, in the Pontian Mountains, located along the southern border of the Black Sea. This mountainous region was mostly populated by Greeks for many generations; including, the period of World War I.
On page 12 of The Black Book, published in 1920 by the Ecumenical Patriarch of Constantinople, there is an excerpt about the death of Kyriako's father John Eleftheriou, describing that, on March 22nd [1919] in the village of Mouxid (Kavza) or (Havza), he was killed. The Black Book does not state how he was killed or that his mother Anastasia, was also killed. However, it is known that 6-year-old Kyriako witnessed his father being hanged in their barn and his mother being shot.
This poem honors Kyriako's life and the lives of all Pontians who suffered similar fates

- John Eleftheriou
It was 1919
In the Pontian Mountains
Home to as many as half a million Greeks
Living peacefully with Turks and Armenians
As a child, life seemed good
My sister Mary was around nine and I was six
We had a large farm and beautiful home
With workers and servants
Life was grand, but then…then…
They came in the middle of the night
We became victims
In a blink of an eye, they changed our life
My father was hanged
They shot my mother
Everyone I loved was slaughtered
Just like that, my sister Mary and I only had each other
Our elderly grandmother took Mary
For years I never knew if she was still alive
To the Zappeion orphanage I went until 14 or so
Then released to the streets…in fear I cried
Did all the dirty work no one else wanted
Worked in a slaughterhouse and pushed an all-night street cart
Then at eighteen, went to the merchant marines
A lonely existence without heart
After years at sea, we landed in the USA
In Mobile, Alabama to resupply
Where I jumped ship for Baltimore, Maryland
Can't even remember why
Where would life's journey take me?
How would I survive?
Then another Mary came into my life
I finally felt alive…I was alive!
We married in a short time
Followed by baby Anastasia
A steady well-paying job as a painter
Our Fells Point apartment for the three of us
It was the start of the American Dream
So wonderful… I felt so free
Then I was arrested for being illegal
And sentenced to 18 months at sea
Afterwards I was finally legal
Then 3 more children arrived
A good job and new middle-class home
It dawned on me that… I had survived… I survived!!!
From a tragedy I thought destroyed my life
By forcing me to live as a survivor
To a legal, middle-class American
I lived a wonderful life as a God-fearing husband and a father
E