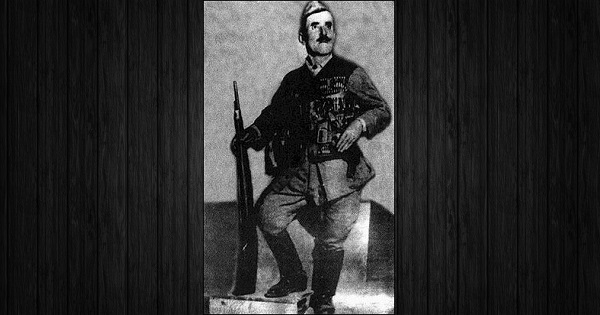 Anastasios Papadopoulos, better known as 'Kotsa (Big) Nastas', was a Pontic Greek freedom fighter during the Greek Genocide. He was the general in charge of theToptsam unit on the mountain Yaylatsik in southern Pontus. He was born in 1896 at Entik Pounar, a village near Erbaa in Pontus. He was tall and had a deep voice. His father, Papa Kyriakos who was well known in the region was a priest and was a legate to the Metropolitan of Amasya. Kotsa Nastas took to the mountains at the age of 19. The leader of the freedom fighters at Toptsam at that time (1915) was Captain Iakof.
Freedom fighters in Pontus were largely made up of males who deserted from the Ottoman military due to the harsh treatment they received. They were usually sent to the interior to work around the clock without food and water. The death rate at these military camps was as high as 90%. Others who joined him on the mountain included Theofilos Hatzi-Pavlidis, Anastasios Tektonidis, Mikhail Ioannidis, Ioannis Yelastopoulos, Dimitrios Hatzi-Pavlidis, Vasilios Papadopoulos, Dimitrios Ioannidis and others. In one battle close to Entik Pounar in 1916 between the freedom fighters and Turks, captain Iakof was killed and as a result Kotsa Nastas took on the leadership.
The actions of Kotsa Nastas gave hope to the Greeks of the region who faced deportation and massacre by Kemalist forces. Many Greeks of the region fled to the mountains and relied on him and his men to provide them safety. At one stage Kotsa Nastas and his 600 freedom fighters provided safety and relief to 12,000 Greeks, made up largely of women and children.
Meanwhile, the Turks referred to him as Kotsa Giaour (Kotsa the infidel). The Kemalists tried to defeat him many times and at one stage sent military commander Liva Pasha to lead an assault against him, however Liva Pasha was unsuccessful and Tzamit Pasha replaced him. Due to their inability to counter him, the Turks eventually reached an agreement with him thus securing the safe removal of the women and children from the mountains.
Soon after the signing of the Exchange of Populations, Kotsa Nastas was killed at the village Ezenous by chettes of the region. His murderers cut off his head and hung it on a telegraph pole in the town of Tokat. His death was celebrated by the Turks of the region who shouted "We killed the leader of the Greeks!". In an attempt to take possession of his body, his brother George Papadopoulos was also killed. His wife Despina fled to Greece where she settled at Kissa, Kozani along with two of his sisters and his brother Amvrosios Papadopoulos.
Source:
Encyclopedia of Pontian Hellenism. Malliaris Paedia.