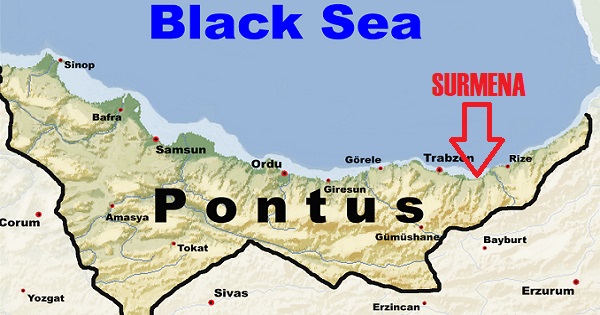 Sürmene (Gr: Surmena, Σούρμενα) is a seaside town and district situated approximately 30 km east of Trabzon. Before 1923, the number of Greeks living in the district was around 14,000. The settlements with large Greek communities were located close to the Monakos River (today Manahoz Stream). Some of the larger Greek settlements included Kelonsa (350 Greek families, 1 church), Tzita (350 Greek families, 2 churches), Assou (250 Greek families, 1 church) and Tsikoli (200 Greek families, 1 church).
The Greek settlements

Χουμουρκιάντων - Houmourkianton (the regional centre)
Ασού - Asou
Καρακαντζί - Karakantzi
Καταβόλ - Katavol
Κελόνσα - Kelonsa
Μεξεζί - Meksezi
Μουλκάντων (Χοτζαράντων) - Moulkanton (Hotzaranton)
Πετράς - Petras
Πύργη - Pirgi
Τσικολή - Tsikoli
Τσίτα - Tsita
Χαλανική - Halaniki
View the Greek settlements in other regions here
This list of the Greek villages of Pontus (or villages where Greeks resided) was compiled by the Center of Asia Minor Studies (Κέντρο Μικρασιατικών Σπουδών) which is based in Greece. The list may exclude some villages which weren't known at the time the study was completed. Source: The History of Pontian Hellenism, Christos Samouilidis, Thessaloniki 1992.
Map below is just a guide and is hosted by an external source.