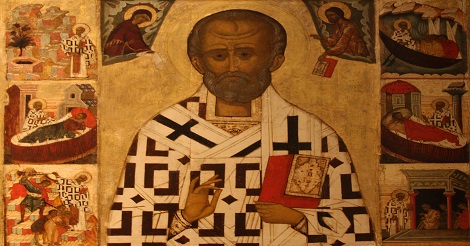 Nikolaos is an ancient Greek name meaning Victory of the People (Niki means Victory and Laos means People). The legendary Saint Nikolaos was a real person who was born in the 3rd century to a wealthy family in the village of Patara, Lycia in Asia Minor. At the time, the area was Greek. He died December 6, AD 343 -- seven centuries well-before any Seljuk Turkish presence was in that region. He was one of the youngest men to become a Christian priest and later a Christian Bishop. He was one of the key participants of the First Council of Nicaea. He distributed his inheritance in accordance to Jesus's teachings to "...sell what you own and give your money to the poor...." The Christian Saint Nikolaos would provide funds for dowries to poor young women who otherwise could not be wed, to the sick and to the suffering. He is revered as The Protector and Patron Saint of Seafarers, and of many others.
Through a series of events that have come to my attention, it is apparent that there is an insidious effort to diminish our Hellenic heritage via the "Multiplier Effect," via the "Establishment Media," via "teaching institutions," and via "individuals in strategic areas in society" who promote Turkey. Instead of wars, the overall plan is to destroy people's heritage and identities. The following report is a case in point:
Back in 2000, though bankrupt--the Turkish government was spending millions upon millions of dollars to public relations firms in the United States to promote their image to the world as they simultaneously chipped away at our own heritage and identity. One such example was when the viewers of The History Channel -- with an audience of over 80 million viewers throughout the United States and Canada -- were misinformed that our beloved Wonder-worker Saint Nicholas was an "austere Turkish Bishop."
It was the Hellenic-American community activist Mr. John Barlas who first alerted the Greek community that for several years the History Channel had been wrongfully identifying our beloved Christian Saint Nicholas as an "austere Turkish Bishop!" The news from Mr. Barlas prompted me to watch the History Channel's December 4, 2000, "Holidays: Christmas Unwrapped."
Three years prior, I had written a letter prompted by similar concerns to the William Morrow and Company Publishers of the late Jeff Smith's cookbook, The Frugal Gourmet, who wrongly identified Saint Nickolas as a "Turkish saint." However, I did not receive a response. Curiously, Jeff Smith was an ordained Methodist Minister who should have known better!
This time, I was determined to see that a correction be made. It required four months to proactively effect a correction from the History Channel. Before the 2000 Christmas Unwrapped Show -- I was informed that individuals who had written letters to the History Channel had not received any responses, and when Christmas Unwrapped aired in 2000 there was no correction made either. When I clearly heard Saint Nicholas described as an "austere Turkish Bishop" -- I knew that our work had just begun!
On January 13, 2001, I Federal Expressed a letter to the CEO of the History Channel, Mr. Nicholas Davatzes. The letter was electronically signed by 72 colleagues most of whom are scholars throughout the world. Some were Greek, Armenian and of Assyrian descent.
During the coffee hour after church services, I asked Father Demetrios Katerlis the Proto-presbyter of the Saint George Greek Orthodox Cathedral in Philadelphia to announce to our parishioners the need to sign the petition I had prepared. When making his announcement, Father Katerlis said, "I have something funny to tell if it were not so tragic. Normally, I enjoy watching The History Channel but they have described our Saint Nicholas as a Turkish Bishop...." The sound of audible gasps filled the church hall.
175 signatures were collected during the coffee hour from the parishioners of The Saint George Greek Orthodox Cathedral.
The Greek School Principal, Mrs Christina Yiacas offered to collect signatures from all of her students as well. "Saint Nicholas is their saint too," she exclaimed.
I alerted the many Saint Nicholas churches throughout the United States for the need to stand up for our beloved Saint Nicholas. Although I did not hear from them, news filtered down from The History Channel--that they did not want any more letters from us.
In his letter to Mr. Davatzes, the late Dr. Thomas Georginis (may his memory be eternal) Professor/Chair of Management Information Systems, at the University of Arkansas wrote, "... I am asking my history department to make this a case study of history misinformation and distortion."
During the process to seek correction of this historical misinformation, I received letters from Alison Guss, Senior Producer and later from Gary Morgenstein, Vice President of Corporate Communications for The History Channel. They were unwilling to make the correction. In order to convince them, I put Mr. Morgenstein in touch with Dr. Constantine G. Hatzidimitriou, the noted Byzantine, Ottoman, and Balkan Historian.
Dr. Constantine G. Hatizidimitriou, paved the way for the requested corrections by discussing the facts of the history of Asia Minor with Mr. Morgenstein. He remained steadfast in his position. Therefore, I requested that Mr. Morgenstein also speak with Father Demetrios Katerlis to bring final closure on this issue.
Interestingly, Father Katerlis informed me that Morgenstein remained reluctant to change Saint Nicholas into a Greek Orthodox Bishop. However, Father Katerlis held his ground and asked Morgenstein why did he have a problem calling Saint Nicholas a Greek Orthodox Bishop -- and yet had no problem calling him a Turkish Bishop? He asked, "Do you not like Greeks?" Morgenstein told Father Katerlis that he could not understand why we were paying such close attention to such a small segment of the program.
Furthermore, the noted Greek poet, Mr. Alekos Challes known as Alekos o Samios (Alekos of Samos) wrote a poem in Greek, titled Agios Nikolaos (Saint Nikolaos) in which he satirically wrote that "Saint Nicholas now wears a fez." When I informed Morgenstein that Aleko's poem was going to be printed in a Greek newspaper, there seemed to be a sudden burst of cooperation on his part.
I received an email from Morgenstein indicating that he and Father Katerlis had reached a satisfactory resolution. I wrote two times to Morgenstein requesting a letter of confirmation from him--but received no response. Consequently, I wrote to Mr. Nickolas Davatzes again.
After the four-month intensive campaign to rescue our beloved Saint Nicholas's identity, I received the much awaited letter from The History Channel's President and CEO, Mr. Nickolas Davatzes. On April 5, 2001, he wrote:
"...After more than 17 years in business, A&E Television Networks' greatest resource is our credibility.
"...sometimes we make a mistake. And when we make a mistake, we correct it. After conversations among Alison Guss and Gary Morgenstein, and you, Dr. Hatzidimitriou and Father Demetrios Katerlis, we have now agreed that the program's description of Saint Nicholas will be:
"Long before Santa, however, there was Saint Nicholas, a Greek Orthodox Bishop who became one of the most popular Saints of the Middle Ages.
"I have enclosed a tape of The History of the Holidays: Christmas Unwrapped containing this change. This is the version that will be used when we telecast the program in December.
"I'd like to thank you for bringing this matter to my attention."
---
Sofia Kontogeorge-Kostos is the author of Before the Silence: Archival News Reports of the Christian Holocaust that begs to be Remembered available in hardback and Kindle