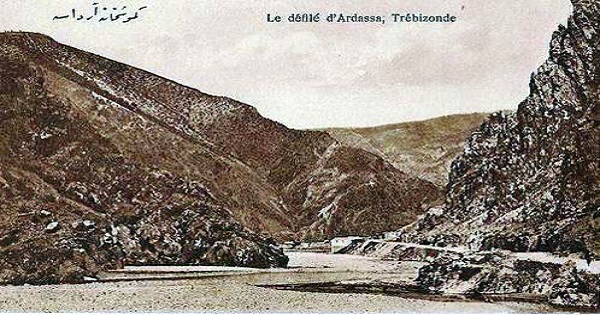 Ardassa was in the district of Chaldia in Pontus, and was located 15-20 km North-West of Argyroupolis (Gümüşhane). Ardassa is identified with the ancient city of Dorylaion from which it's current name of Torul appears to originate from. The city is built on the banks of the Upper Harsiote (or Kanis) river. A castle is built on the side and north of this river as evidenced by Clavijo during his travels through Chaldia on the 30th of April 1404.
During the middle ages Ardassa existed in
Chaldia
, one of the 6 powerful Byzantine seats, and was named Mesohaldion. It was the seat of the powerful family fiefdom of the
Kabazites
, and the episcopal seat which was governed by the Diocese of Neocaesareia (Niksar).
Anthony Bryer
states that in the early 14th century, Constantine Loukites endowed each of St Eugenios' companions with specific birthplaces in Chaldia. Loukites awarded St. Valerian a hamlet near Ardassa as his birthplace: Εδίσκη (Άδισα, or Adise, now Yildiz).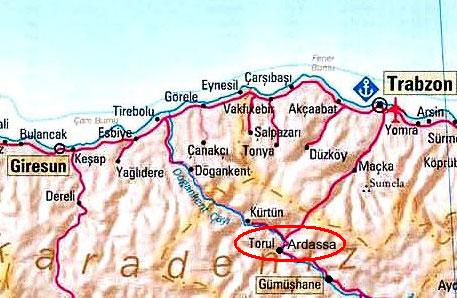 During the period of
Ottoman rule
, Ardassa was devastated and depopulated whereupon Turkish noble Osman Bey moved in from the village of Monastir (Demirkapi) of Ambrikanton, and chose to make it his new seat. From then on, it became a subdistrict of the Ottoman Empire and a commercial/transport center of the wider region, in which there existed a number of Greek villages.
In 1901 the Ardassa bridge was built by chief builder N. Demirtzoglou of Santa and provided an increase in movement and transport to the town. The bridge still exists today. According to Panteli Melanofridi the Bridge of Ardassa is that which is referred to in the famous poem '
Tis Trixas to Yefiri'
.
Fourty Muslim and five Christian families lived in Ardassa. Many of the Greek families maintained businesses. Before the
exchange of populations
between Greece and Turkey (1923), Ardassa comprised an administrative building, a court, a post office, businesses and inns as well as a temple which was dedicated in memory of Saint Sophia and the Dormition of the Virgin Mary.
Greek settlements of the Ardassa region
Ardasa, Adisa, Avliana, Varaton, Bartanton, Yaratzanton, Dipotamos, Kagkelina, Karel, Korkotas, Kodona, Lapadion, Martin, Maurena, Mesohor, Mourtazi, Palihor, Pachtsopon, Pivera, Rak (Riaki). Sarpiska, Tsak, Tsarouchonos, Tsimprika, Tsiti Large, Tsiti Small, Haviana. 
References:
Eastern Pontus , by Savvas Kalenteridis
The Encyclopedia of Pontian Hellenism
The Byzantine Monuments and Topography of the Pontos , A Bryer, D Winfield
See: The Greek settlements of Ardassa