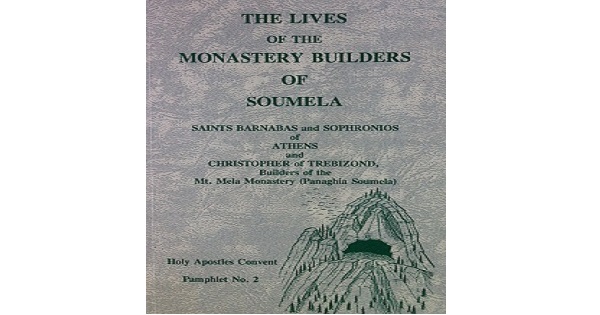 96 pages
Illustrated with icons, 40 in site photographs, and maps.
Translated from the Greek of The Great Synaxaristes of the Orthodox Church and other Greek sources.
A brief outline of the lives, struggles and sufferings of Saints Barnabas and Sophronios, together with Saint Christopher of Trebizond, builders of the Mount Mela Monastery (Panagia Soumela).
When recounting the lives of the holy Fathers Barnabas and Sophronios, it is necessary to introduce a brief history about the icon of Panagia Soumeliotissa, which figures so prominently in the lives of these saints.

The Evangelist Luke, the God-inspired initiator of the sacred art of iconography, received the Mother of God's blessing to paint holy icons when she said, "May the grace of Him Who was born of me, through me, be imparted to them (the icons)."
Available in the US click here