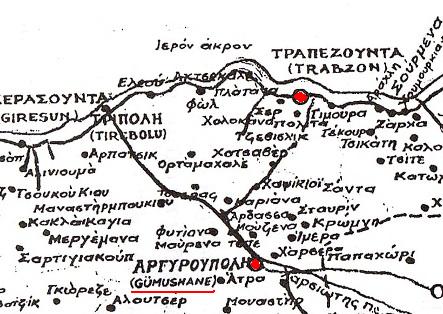 Tsimera (Grk: Τσιμερά) was a village in Pontus situated in the region of Argyroupolis. Today Argyroupolis is called Gümüşhane. The town was built in 1461 by those who lived outside the walls of Trapezunta. In 1922 it had roughly 800 residents all of whom were Greek. The village had two churches; the church of Yenethlion tis Theotokou which celebrated its yearly festival on the 8th of September, and the church of Ioannis Prodromou which celebrated on the 29th of August. Apart from these two main churches, there was also the temple of Saint Gregory.

The last religious clergy of the village were Father Ananias, Father George and Father Ignatios. Tsimera also had a two grade school. After 1922, the residents of the village fled to Greece, the majority of which settled in Pente Vrysses Langatha, and Kekhrokampo Kavala, as well as other parts of Greece. The dance Omal Tzimerasis believed to originate from the village of Tsimera.
Source: The Encyclopedia of Pontian Hellenism
See also: Από την Τσιμερά του Πόντου στην Ελλάδα. Η ιστορία της Τσιμεράς και η διασπορά των κατοίκων της στον ελλαδικό χώρο.