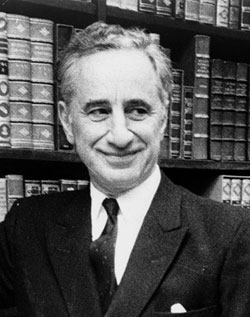 ELIA KAZAN (KAZANCIOGLU)
ACTOR, DIRECTOR, WRITER, PRODUCER
BORN CESAREA, (KAYSARI ), ASIA MINOR (TURKEY)
SEPTEMBER 7, 1909 - SEPTEMBER 28, 2003
"I am a Greek by blood,
a Turk by birth,
and an American
because my uncle made a journey."
ELIA KAZAN
Elia Kazan was born in the same village as his paternal uncle. He was born in 1909 to an Anatolian Greek family living under harsh Turkish rule during the Ottoman Empire. He was four, in 1913, when his parents immigrated to New York City. His father, George Kazancioglu was a rug merchant by trade and was able to continue his trade in America. AMERICA AMERICA tells of Elias Kazan's father's brother who fled to Constantinople (renamed Istanbul in 1930) to get away from the brutality of the Turks against the Greek, Armenian, and Assyrian natives
KAZAN'S 1964 film AMERICA AMERICA was nominated for three Oscars.
ELIA KAZAN:
BEST DIRECTOR*
BEST PICTURE
BEST WRITING, STORY & SCREENPLAY, ADAPTED FOR SCREEN
AMERICA AMERICA won the Academy Award OSCAR for:
*BEST ART DIRECTION, IN BLACK-AND-WHITE.
AMERICA AMERICA
Produced, written, and directed by ELIA KAZAN
Based on the book with the same title, by MR. KAZAN
Cinematographer, HASKELL WEXLER;
Edited by DEDE ALLEN
Music by the legendary MANOS HADJIDAKIS
By WARNER BROTHERS in Black and White. Running time: 176 minutes
PLAYED BY:
STATHIS GIALLELIS as STAVROS TOPOUZOGLOU
FRANK WOLFF as VARTAN DAMADIAN
HARRY DAVIS as ISAAC TOPOUZOGLOU
ELENA KARAM VASSO TOPOUZOGLOU
ESTELLE HEMSLEY as GRANDMOTHER TOPOUZOGLOU
IN 2001, AMERICA AMERICA WAS SELECTED FOR PRESERVATION IN THE UNITED STATES NATIONAL FILM REGISTRY BY THE LIBRARY OF CONGRESS AS BEING "CULTURALLY, HISTORICALLY, OR AESTHETICALLY SIGNIFICANT."
AMERICA AMERICA (1963) was directed, produced by Elia Kazan and based on his book with the same title. In his film, Kazan tells the story of his uncle, Avraam-Elia Kazancioglu, who grew up in the small village town in Cesarea, Asia Minor (today known as Kaisari, Turkey) at the end of the 19th Century.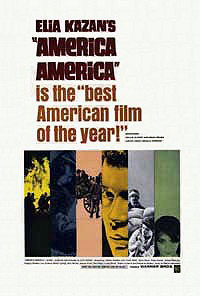 Film Poster
Elia Kazan was born in the same village as his paternal uncle. He was born in 1909 to an Anatolian Greek family living under harsh Turkish rule during the Ottoman Empire. He was four, in 1913, when his parents immigrated to New York City. His father, George Kazancioglu was a rug merchant by trade and was able to continue his trade in America.
AMERICA AMERICA tells of Elias Kazan's father's brother who fled to Constantinople (renamed Istanbul in 1930) to get away from the brutality of the Turks against the Greek, Armenian, and Assyrian natives. Before fleeing to Constantinople, his uncle's father provided his son with the family treasures and a plan to earn enough money so that his family could later join him in Constantinople.
The time was around the early 1890's. Although the Greeks were oppressed by the Turks for centuries, their hearts belonged to Asia Minor-the land of their ancestors. But Kazan's uncle, the protagonist in AMERICA AMERICA, stretches his hopes beyond Constantinople. He wants to gather enough money for passage to America.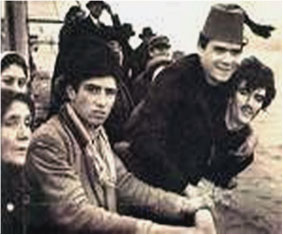 Scene clip from America America
ALTHOUGH KAZAN WAS HAILED AS AN "ACTOR'S DIRECTOR" - he deliberately used little-known actors for the three-hour epic tale of his family.
BEFORE HIS UNCLE AVRAAM-ELIA KAZANCIOGLU reached the United States, his journey led him to a series of experiences-one more shocking than the other. Avraam-Elia had come across the Turks burning a church filled with trapped and helpless Armenian children and elderly people. He witnessed the violence of an "abortive massacre." Thus, filling him with even more determination to escape from the violence against the Greeks, Armenians, Assyrians and other Christians of Asia Minor (now called Turkey).
After many trials and tribulations, Avraam-Elia did reach New York City where he found work as a shoeshine boy. Eventually from his savings, A. E. Kazan his newly adopted name, managed to bring his family to the land where they, and Elia Kazan, had the chance to escape the Turkish brutalities and to fulfill their potential.
SEVEN OF MR. KAZAN'S FILMS WON A TOTAL OF 20 ACADEMY AWARDS!
TO HIS CREDIT, Elia Kazan obtained fame as an actor, theatrical director, film director and best-selling novelist. He was an admired actor in his youth, and a best-selling novelist in his later years. Noteworthy some of his classic films were:
* A Streetcar Names Desire
* A Tree Grows in Brooklyn
* America America
* East of Eden
* Gentleman's Agreement
* On the Waterfront
* Splendor in the Grass
* Viva Zapata -- and other films

KAZAN'S MORE NOTABLE BROADWAY PLAYS WERE:
* All My Sons
* Cat on A Hot Tin Rook
* Death of a Salesman
* Gentleman's Agreement
* J.B.
* Sea of Grass
* Streetcar Named Desire
* Sweet Bird of Youth
* Tea and Sympathy
* The Dark of Top of the Stairs
* The Skin of Our Teeth -- and other plays

BOSLEY CROWTHER THE HIGHLY REGARDED FILM CRITIC wrote a glowing movie review in The New York Times, on December 16, 1963. In a segment of his review about AMERICA, AMERICA, he wrote:
It is a tribute, expressed entirely in vivid, vigorous motion- picture terms, to the courage, tenacity, and foresight that drove the young man to fight his way out of a land of bondage in Turkey at the turn of the century and on to this land of freedom where his strength and his spirit might have full play. And since the recipient of the tribute might be any young immigrant of that day, the film is, indeed, not only a tribute but also a ringing ode to the whole great surging, immigrant wave.
In a backhanded comment about the length of AMERICA AMERICA, Crowther commended Kazan when he wrote: If Mr. Kazan's pictures weren't so overwhelmingly long and, consequently, so often redundant, it would be-what? Even finer than it is.
ERIC BENTLEY, THE RENOWNED CRITIC, PLAY WRITE, SINGER, EDITOR, AND TRANSLATOR PROCLAIMED: "The work of Elia Kazan means more to the American theater than that of any current writer."
ELIA KAZAN LEFT HIS MARK ON OUR WORLD
HE DIED AT AGE 94.
MAY HIS MEMORY LIVE ON
Researched and Edited by
Sofia Kontogeorge Kostos
--Film Buff, Poet, Writer, Artist,and Advocate for Genocides Awareness
Sofia Kontogeorge-Kostos is the author of Before the Silence: Archival News Reports of the Christian Holocaust that begs to be Remembered available in hardback and Kindle