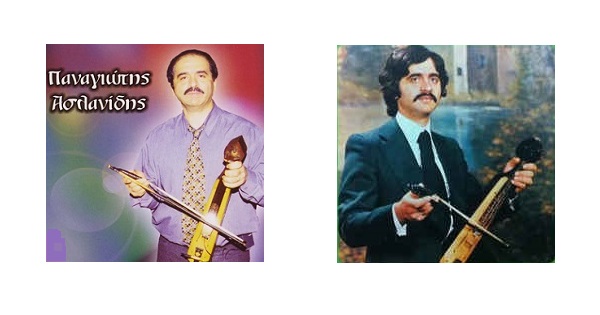 Panagiotis Aslanidis was born in Kalamaria, Thessaloniki, Greece in 1947. His family's roots are from Kromni (Tr: Kurum) in Pontus. He began playing the Pontic lyra at the age of 13 in the company of two of Pontic music's greats; Gogos Petridis and Yiannis Vlastaridis (better known as Tsanakalis).
Aslanidis is renowned for his rhythmic, expressive and sometimes eccentric playing style. It's these qualities as well as his poise, confidence and general mastery of the instrument that has set him apart from others. He is regarded as one of the most respected and well known of the traditional Pontic lyra players still alive. He is known by many as Aslan, the word Aslan being of Turkish origin and meaning 'lion'.
Aslanidis has recorded over 10 albums and 10 CD's. His first recording was in 1974 with Vasipap titled Pontian Echoes No:1 with Pavlakis Draminos, Giota Papadopoulou and Takis Papadopoulos. He is perhaps the last of the great first generation Pontic lyra players.