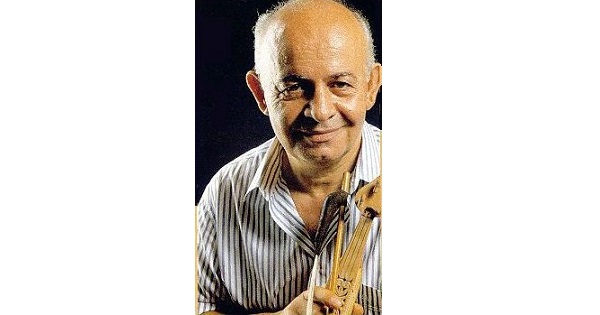 Giorgos Amarantidis (1944-2013) οtherwise known as S'imoults, was born in 1944 in Kapnohori, Kozani (Greece) and is the son of well known kemenche player Stathis Amarantidis and Sophia Kavakidou both of whom were refugees from Upper Matsuka (today Maçka) in Pontus. From a young age he played the kemenche in the company of Pontus-born musicians many years his senior. This influenced his playing style and resulted in him retaining a very traditional playing technique.
Between 1973 and 1984 he worked in the theater of Dora Stratou and traveled to many countries including India and Azerbaijan. He also performed at many events alongside Domna Samiou in Greece and also overseas. He has performed in over 40 albums and CD's not only playing kemenche solo but also accompanyied by various other acclaimed musicians. He performed at the opening ceremony of the World Athletics Championships in Athens in 1977 and also at the Olympic Games Centenary at the Kallimarmaro Panathinaiko Stadium.
Perhaps his most unique production was a CD titled Greeks and Indians released by Saraswati Records in 2001 in which he plays the Pontic kemenche with Indian musicians who play instruments such as the bamboo flute, the sitar and the tabla.
View all his CD's at Amazon.com