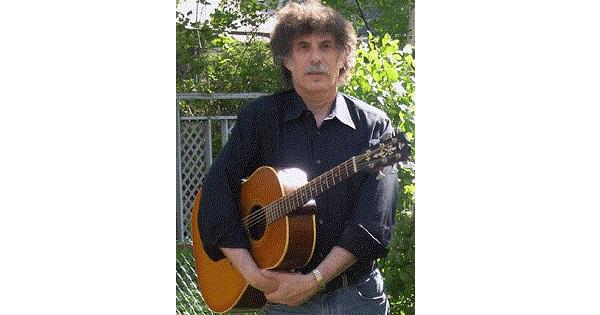 Leigh Cline
is a guitarist, producer and sound engineer based in Toronto, Canada. He is the only non-Greek to professionally play Pontic music. He also created his own style of music which focuses on Black Sea, Greek and Turkish music with echoes of the Caucasus and Celtic music. He has three solo CDs:
Orient Express
,
Al Asha Bi Daha
and
Galatia
and also plays, tambura, saz and synthesizers.  
Αs well as performing with many musicians of the 1960's folk revival he has also mixed sound for performers such as Joni Mitchell, Judy Collins, The Chieftains, Fleetwood Mac, Procol Harum, Rod Stewart, Grateful Dead. He toured with Ian & Sylvia & The Great Speckled Bird and was Sound Designer for The National Ballet of Canada's production of Yannis Xenakis' Kraan Erg. He also worked for the Canadian Broadcasting Corporation doing music research for TV documentaries.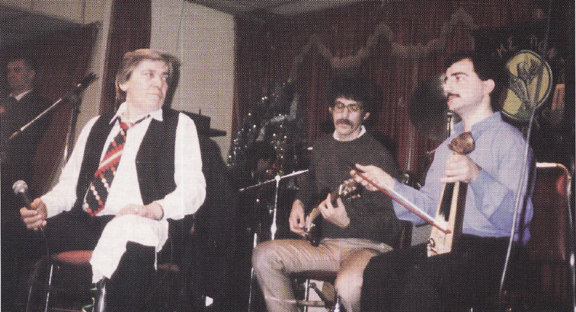 Leigh Cline accompanying Chrysanthos Theodoridis and Michalis Kaliontzidis, c 1980's.
In 1974 he moved to Greece working with Nikos Xilouris in Boite Rizes and on several TV shows. Since that time, he has played in many Greek clubs in Greece, the USA and Canada with top Laika and Dimotika musicians such as Tassos Halkias, Vangelis Soukas, Petros Goulekas, Stelios Perpiniadis, Stratos Dionysiou, Stelios Bellos, Yannis Floriniotis, Nikos Kaltsas as well as many other traditional and Laika performers. For many years he played clubs with keyboard player Yannis Antos who was the mainstay of the band with Vassilis Tsitsanis, one of the last of the great rebetika performers. In concert or festivals he has played with or mixed sound for (sometimes both) Ilias Klonaridis, Eleni Vitali, Domna Samiou, Pantazis, Annoula Vasiliou, Rena Koumioti, Yiota Lydia, Psarantonis Xilouris, Antipas, Yannis Katevas, Elpida, Yannis Poulopoulos.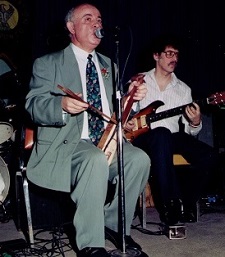 In 1976 he lived in the Kallithea area of Athens just down the street from the Kortsopon - one of the last old style Pontic clubs. There he met the late Kostikas Tsakalidis, the master Pontic musician/singer. They played together at the Kortsopon and in Northern Greece, becoming good friends and "like family" with Kostika's family, a relationship that continues to this day. It was at the Kortsopon that Leigh first started playing with major Pontic musicians including Chrysanthos, Stathis Nikolaidis, Thanasis Tsoleridis, Gogos Petridis, Lambis Anastasiadis. Since that time he has continually played and recorded Pontiaka working with most of the Pontic performers in Greece including Mihalis Kaliontzidis, Yorgos Amarantidis (pictured left), Yorgos Dimitriadis, Thodoros Pavlidis, Nikos Tsimahidis, Panagiotis Aslanidis, Sophia Nikolaidou, Kostas Theodosiadis and many other well known Pontic performers.
He is the webmaster of The Pontic Music Home Page and has held workshops on a variety of guitar and long necked lute styles and lectured on the music of the Balkans, West and Central Asia. His CD Al Asha Bi Daha features traditional Black Sea music. On this album, which Leigh produced, he plays guitar with Nikolas Michailidis on lyra and vocals. The CD is licensed internationally, in Greece it is on the Kyriakidis/IRIS label with the title Mian Ki'Allo.
On his solo CD, Orient Express, Leigh composed the music and plays guitars, tambura, saz and synthesizers. The album is an East/West synthesis that features Michalis Kaliontzidis and Polios Papagiannidis and combines Pontic, Greek, Turkish and Western musicians. It has been licensed and or distributed in Greece, Turkey, the Caucasus, the Middle East, Central Asia and Russia. The CD has also been licensed in India, and South Asia.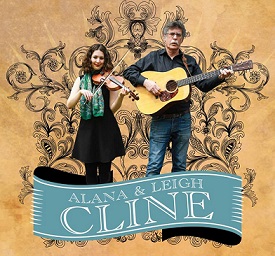 Leigh composed, recorded, played on and produced the CD radio single Galatia that combines Celtic and Pontic music. The album also features Mihalis Kaliontzidis, renowned Cape Breton fiddler Sandy MacIntyre and North American Bagpipe Champion Bob Worrall on Scottish border pipes. He continues to record and perform at concerts, clubs and festivals as well as giving workshops on guitar techniques and music. Leigh is also researching material for a documentary on Pontic/Celtic/Anatolian connections.
More recently, he performs in a duo with talented fiddler Alana Cline. Together they combine Irish, Cape Breton and Scottish styles to create their own sound. In some of their sets, they perform Pontic tunes incorporating the violin and the Pontic lyra, as well as Balkan tunes. They've performed at various events and festivals including the Great American Irish festival, The Taste of Danforth and many others. In 2016, they released their self titled CD. 
He has co-authored a book with fiddler Sandy MacIntyre titled Cape Breton Traditional Style Scottish Fiddle Sets with Guitar Tablature.
Some of his CD's 

Orient Express
Al Asha Bi Daha
Galatia
Alana and Leigh Cline
Other links