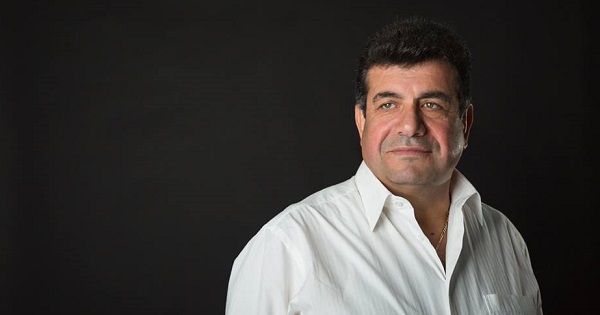 Stathis Nikolaidis is a well known Pontic Greek singer from Greece. He was born in the village Ilic in Kazakhstan (today Turkistan) on the 4th of August 1958. His paternal roots are from Kounaka, Matsuka (today Maçka) and his maternal roots are from Rize. His love of singing began at the age of 7.

His grandparents fled Pontus in 1917 and arrived at Sokhumi. His parents were born and lived there until 1949 when they were deported to Kazakhstan during Stalin rule. In 1966, his parents Ioanni and Anthoula fled with their 4 children and settled in Athens.

His father was a kemenche player and would often play at weddings and christenings. During a holiday to Sparta, Nikolaidis met Pontic musician Thanassis Tsoleridis. It was through this meeting that Stathis met his future wife Sofia, the sister of Tsoleridis. One night in 1976 at the Pontic club Kortsopon in Kallithea, he sang two impromptu songs with Pontic lyra legend Georgos Petridis. After a discussion with the owner, Nikoladis was invited back and became a regular performer, until he was drafted into army service.

In 1978 he began releasing music albums. His first was with Yiannis Tsanakalis titled The Kementzetzides which became a huge hit. More albums followed including To Aidoni tou Pontou, Anastenaria, Apo ton Ponto stin Athina, Asin Poulantzaki so Ata Pazar, Kivotos and O Metikon. In 1988 he began performing with accomplished kemenche player Giorgos Amarantidis. He also performed with a string of other accomplished musicians such as Dimitris Karasavvidis, Theodoros Veriotis, Christos Chrysanthopoulos and from 1998 Yiorgos Atmatsidis.

After a conversation with Lefteris Hapsiadis, he was told that the famous Stelios Kazantzidis was eager to speak with him. Kazantzidis wanted to produce a Pontic album, and wanted to sing some of the songs that Nikolaidis and Veriotis had performed on the album Odiporiko ston Ponto which were the songs of Nakis Efstathiadis and Thanassis Tsoleridis. The CD was released and it featured the singing of Kazantizidis, Nikolaidis and Chrysanthos . The CD was titled Ta Aidonia tou Pontou and it reached Gold status in sales. He continued to sing with Kazantzidis and together they released further CD's accompanied by talented musician Christos Chrysanthopolulos.

The friendship with Kazantzidis was to continue. In 1994 Kazantizidis baptized the youngest of Nikolaidis' three daughters Yesthimani  which was the name of Kazantizidis' mother.
Join his Facebook fanpage  
Buy his music at Amazon.com