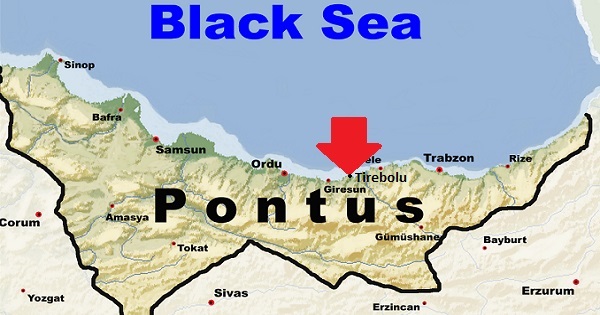 Situated 80km west of Trabzon is Tripoli (today Tirebolu). According to Oiconomidis, around the middle of the 19th century, there were 600 families living in the town of Tripoli of which 200 were Greek (2,472 Greeks and 4,115 Turks). According to Leon Maccas, the entire district of Tripoli including its surrounding settlements were inhabited by 49,528 people of whom 17.821 were Greeks (approx. 36%)
The Greek Settlements of Tripoli (Tirebolu)
Tripoli Region

Τρίπολη - Tripoli
Ασλαντζούκ - Aslantzouk
Έριτζα - Eritza
Ερσεήλ Μαντέν - Erseil Maden
Καζούμπελ - Kazoumpel
Καράκαγια Μαντέν - Karakaya Maden
Κιλισέμπουρουν - Kilisemburun
Κιούζελε - Kiouzele
Σοούχταμ - Soouktam
Χαρσώτ' - Harsot'

Elevi (Giorele - Koralla) Region

Ελεβή (ή Γκιόρελε ή Κόραλλα) - Elevi (or Giorele or Koralla)
Γιανάντων - Yananton
Εσελί Μαντέν - Eseli Maden
Σαλάντων - Salanton
Σατού Μαντέν - Satou Maden

Espiye Region
Ατάτιζι - Atatizi
Αγαλίκ Μαντέν - Ayalik Maden
Ατάπικ - Atapik
Γούρμπελι (Κούρτπελι) - Gourbeli (Kurtpeli)
Καράερικ - Karaerik
Νιαλ - Nial
Τεβεκλί - Tevekli
Τζαμού - Tzamou
Τζιμαχάντων - Tzimakhanton

Kiurtun Region

Γαργάενα - Gargaena
Δέσμενα - Desmena
Πέχτελε (ή Μπέη Ταρλά) - Pektele (or Bey Tarla)
Σαρίμπαμπα - Saribaba
Σιμικλί - Similki

Lakhana Region

Λαχανάς - Lakhanas
Κιζίλ καγιά - Kizil kaya
Κιρλίκ Μαντέν - Kirlik Maden
Σάκαβλα - Sakavla
This above list was compiled by the Center of Asia Minor Studies (Κέντρο Μικρασιατικών Σπουδών) which is based in Greece. The list may exclude some villages which weren't known at the time the study was completed. Source: The History of Pontian Hellenism, Christos Samouilidis, Thessaloniki 1992.
The list below is from the Encyclopedia of Pontian Hellenism (Malliaris Pedia) and includes more Greek settlements of Tripoli.
Κουσκουλή Ρουμ - Kouskouli Rum
Τσιπραήλ Ρουμ - Tsiprail Rum
Ακ Κιοϊ Ρουμ - Ak Kioy Rum
Τικμέν - Tikmen
Κιρλίκ - Kirlik
Παλακλού Ρουμ - Palaklu Rum
Κουράν Ματέν - Kuran Maden
Κεπέκλησια - Kepeklisia
Ερμενήκιοϊ - Ermenikioy
Κοζπουκί - Kozpuki
Παλκάν - Palkan
Καρα Κουνεϊ - Kara Kuney
Πελετσία - Peletsia
Τσακράκ - Tsakrak
Κουνεϊ - Kuney
Γενίκιοϊ - Yenikioy
Τσελαλού - Tselalu
The map below is just a guide and is hosted by an external source.