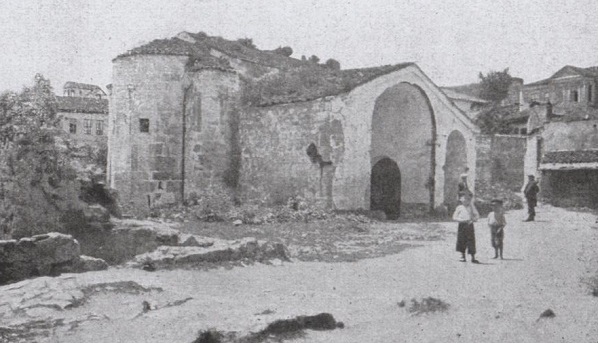 St Andreas church from the northeast (Talbot Rice 1929–30, plate 13)
By Sam Topalidis.
This former church is located on the west side of the western ravine in the Ortahisar Pazarkapı district. The church was originally built in the 10th or 11th century. It was probably abandoned after 1461. It was a triple-aisled structure to which a north porch was added (Bryer and Winfield 1985). The church was converted into a mosque before 1557 (Çalik et al. 2017). In 1929 the building was deserted after the Greeks were expelled in 1923 (under the Population Exchange between Greece and Turkey) (Talbot Rice 1929–30). In 1958 it was still abandoned and was a very dirty ruin (Ballance 1960). Sometime before 1979 it was restored (Sinclair 1989).
In 2015, the mosque now called the Molla Siyah mosque, was restored and strengthened significantly. This included refurbishing the rotten wooden floor and the windows. The process of refurbishment showed that the building had been renovated in the past (Çalik et al. 2017). In September 2018, the exterior of the mosque was in very good condition and it was located in the middle of a very large construction site of rubble.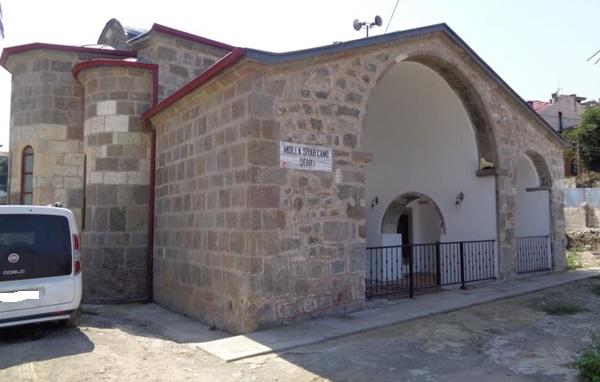 Former St Andreas church from the northeast—now Molla Siyah mosque, 2018
Read more about the status of churches in Trabzon click here