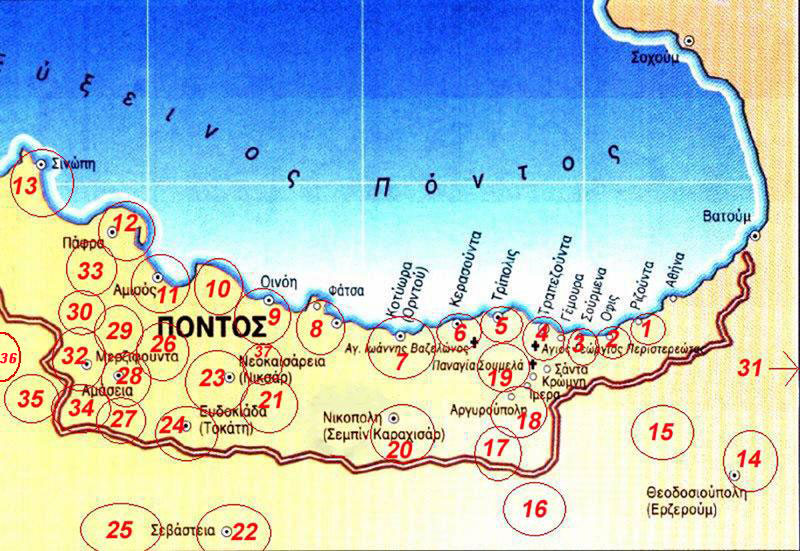 Click map to enlarge. Note: Circles are just a guide. Regions may be larger than pictured.
According to the Centre of Asia Minor Studies, Pontus consisted of 13 coastal regions and 24 inland regions as outlined in the above map.
Click on the regions below to view a list of the Greek settlements.
Τhe 13 Coastal Regions - East to West
The 24 Inland regions - East to West
14. Erzerum - Ερζερούμ
15. Bayburt - Παιπούρτη
16. Erzincan - Ερζιγκιάν
17. Cheroiana - Χερίανα
18. Argyroupolis - Αργυρούπολη
19. Ardassa - Άρδασα
20. Nikopolis (Sempin Karahisar) Νικόπολη (Σεμπίν-Καραχισάρ)
21. Resadiye - Ρεσαντιέ
22. Sevasteias - Σεβάστεια
23. Neocaesarea - Νεοκαισάρεια
24. Tokat - Τοκάτη
25. Akntag Maten - Άκνταγ Μαντέν
26. Erpaa - Έρμπαγα
27. Zile - Ζήλε
28. Amaseia - Αμάσεια
29. Lantik (Laodicaea) - Λαντίκ (Λαοδικείας)
30. Kavza - Κάβζα
31. Kars - Κάρς
32. Merzifunta - Μερζιφούντα
33. Vezirkioprou - Βεζίρκιοπρού
34. Gioumushmaten (Gioumous Hatsikioy)- Γκιουμούς Μαντέν (Γκιουμούς Χατζίκιοι)
35. Tsoroum - Τσορούμ
36. Yozgat - Γιοσγάτη
37. Soungourlou - Σουγγουρλού